The Department of Emergency Medicine of The George Washington University is actively involved in a wide range of Emergency Medicine-related clinical, educational, research, and consulting programs. In support of our medical student, resident, and fellowship education programs and clinical research programs, the DEM staffs the ED's of four hospitals. The DEM also offers a wide range of Emergency Medicine consulting activities including: medical support for the travel assistance and commercial shipping industries, staffing solutions for remote clinics, telemedicine-related services, community-oriented emergency care programs.
Our mission is to provide excellent emergency patient care, train the next generation of health professionals, create new knowledge in the fields of Emergency Medicine and Emergency Management, and continually innovate.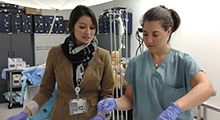 Emergency Medicine Residency
We believe our residency provides a wide range of patient care experiences to best prepare you for the clinical practice of emergency medicine.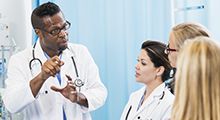 Fellowship Programs
As Emergency Medicine has grown and matured, it has become apparent that physicians who have completed their core residency training can benefit from additional "subspecialty training" that will permit them to advance in academic and leadership positions.